Roasted Garlic Tomato Soup Recipe With Canning Instructions
There is something magical about this homemade canned tomato soup recipe on a cloudy day. Read on to find out how to enjoy this roasted garlic tomato soup fresh or to easily preserve your harvest using a water bath canner or pressure canner. Pair it with a good grilled cheese sandwich on whole grain sourdough and you have yourself a family favourite.
This roasted garlic tomato soup is versatile. Leave it as is and heat it up, add some fresh cream for a more rich soup, use it as tomato sauce in your favourite pasta recipe, and even slather it on pizza as a light and flavourful sauce.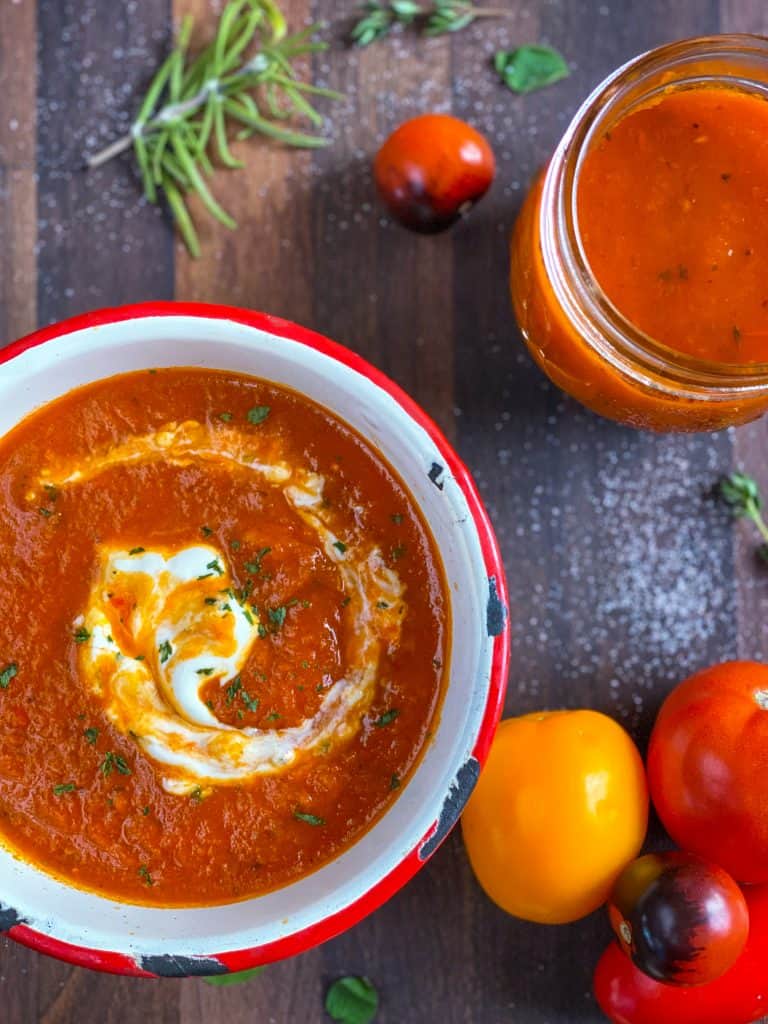 This year I had a BUMPER crop of tomatoes! Im talking hundreds of pounds (yay/yikes). By the end of the harvest season, we had easily eaten our weight in tomatoes. I needed a great way to use up large amounts of tomatoes so that we could enjoy them all winter long. A major bonus to this recipe is that it doesn't require hours of skinning or straining through a food mill. The tomatoes are roasted, leaving the skins soft and easily blended without the hassle of peeling while not compromising great flavor.
If your garden is overflowing with tomatoes, and you love a quick and easy soup, skip the store-bought cans of tomato soup… this home canning recipe is for you!
Recipe at a Glance
Jar Size: pint / 500ml
Processing Method: Water bath
Headspace: 1 inch
Processing Time: 0-1000 ft =35 minutes, 1-3000 ft =40 minutes, 3-6000 ft =45 minutes
Yield: 6 pints
Tips + Tricks
These tips and trick will help you achieve greatness whether its the first time you've made this recipe or the tenth!
Roast your vegetables long enough that the skin is soft and easily crushed.
Ensure that your tomatoes are ripe. Unripened tomatoes will be harder to combine with your other ingredients when blending. 
If you have a lot of green tomatoes, place them in a cardboard box, single layered, and close the lid. Keep them in a warm, dark place and check them frequently.
Use this garlic tomato soup base on your favourite pasta, or as a sauce for homemade pizza.
Use a splatter guard and simmer this roasted garlic tomato soup over medium heat for 45-60 minutes to get a thicker consistency.
Key Ingredients
Tomatoes: Thicker sauce tomatoes such as Roma, San Marzano, and Giullietta work the best for this recipe but any tomato can be used. I used a variety of tomatoes that I had that were ripe including Marzano, Sunrise Roma, Manitoba, and some Early Girl and they combined wonderfully in this homemade canned tomato soup recipe.
Lemon juice or Citric Acid: 2 tbsp of lemon juice / quart, 1 tbsp / pint. ½ tsp citric acid / quart, ¼ tsp / pint. This ingredient is non-negotiable in order to make your homemade tomato soup safe and shelf stable.
Onions- cut up a few small onions or one medium onion. You don't have to be picky about the type.
Garlic- Peel and place whole cloves onto the pan. Roasted garlic is so aromatic and dreamy!
Peppers- Pick fresh, firm bell peppers. If you like a bit of heat, feel free to sub the bell peppers for spicier ones like Jalapeño.
Herbs- you can easily personalize this recipe with your choice of desired herbs. Choose dried herbs to keep your acid level in check if you are canning. Check your grocery store for organic herbs to go along with your fresh tomatoes.
Recommended Tools
A Few Golden Rules…
You must use an acid when canning tomatoes. Adding the allocated amount of citric acid or lemon juice effectively lowers the PH of your tomatoes so that they can be safely canned in a water bath canner or pressure canner. The general rule of thumb is 2 tbsp lemon juice/ quart or ½ tsp citric acid per quart jar. Halve these amounts for pints. The acid can be added directly to your jars before filling them.
Keep your vegetable to tomato ratio in check ✓. According to the National Center for Home Preservation, you should not exceed three cups of any combination of vegetables per 22 pounds of tomatoes. This does not include dried herbs and spices!
If you choose to freeze this recipe, make sure that you remove as much air from your ziplock or vessel of choice before stowing them away. This will help to prevent your homemade tomato soup from getting freezer burnt and reducing the quality of it. This soup will last with optimum flavour and texture for about 4-6 months in the freezer.
Never thicken your soup with any kind of flour mixture or cornstarch before canning- if desired, these ingredients can be added just before eating fresh.
Jar Sterilization
It's important to sterilize your jars to prevent cross contamination during home canning. Here are a few ways you can sterilize your jars:
Boiling Water Method: Wash jars & lids. Place jars in water bath canner, covered with water and bring to a simmer (180F/82C).
Oven Method: Wash jars & lids: Heat oven to 185F, place jars in the oven (I use a clean cookie sheet to make them easier to handle) and allow them to sit for at least 15 minutes. Leave the jars in until ready to fill.
Dishwasher Method: Place jars, lids, and seals in the dishwasher on the hottest cycle. Take them out when ready to fill!
Water Bath Processing Times for Pint Jars
*Add 5 minutes for quart jars
| Elevation | Processing Time |
| --- | --- |
| 0-1000 ft | 35 minutes |
| 1000-3000 ft | 40 minutes |
| 3000-6000 ft | 45 minutes |
For instructions on using your pressure canner to process this roasted garlic tomato soup including cooking times and pounds of pressure, refer to these instructions from the National Center for Home Food Preservation.
Printable Recipe For Canned Roasted Garlic Tomato Soup
Roasted Garlic Tomato Soup Recipe With Canning Instructions
A full flavoured simple to make tomato soup that can be canned or frozen. This canned tomato soup is versatile. Leave it as is and heat it up, add some fresh cream for a more rich soup, use it as tomato sauce in your favourite pasta recipe, and even slather it on pizza as a light and flavourful sauce.
Equipment
water bath canner

6 pint sized jars with screw bands and seals

jar tongs

non-metal spatula

jar funnel

2 large rimmed baking sheets

immersion blender or regular blender
Ingredients
10

lb

firm, ripe tomatoes

6

tbsp

lemon juice*

1 tbsp placed in each jar

1

medium

onion, quartered

1

medium

bell pepper, quartered

4

cloves

garlic

1

tbsp

italian seasoning

1

tsp

dried basil

1

tsp

salt

1

tsp

pepper

1/2

cup

packed brown sugar
Instructions
Cover two large baking sheets with foil

Prep your ingredients: Wash all of your peppers and tomatoes. Core the tops of your tomatoes, remove the stem, seeds, and inner white flesh of your peppers. Quarter tomatoes and peppers and peeled onions and put them on the baking sheet. Trim the tip of your garlic off, peel, add to sheet.

Roast: Place cut tomatoes on a high rack in your oven and cook for about 50 minutes. It is a good idea to switch the pans around after about 25 minutes to ensure that each pan is evenly roasted.

Combine: Once cooking time is done, transfer all vegetables to a large stock pot. Add spices, herbs, and sugar to the tomato mixture. Blend/puree the soup to your desired consistency using a stick blender or working in small batches, place them in a food processor or regular blender.

Cook / Reduce: Bring the tomatoes to a boil over medium/low heat and then turn down to a simmer and simmer for an hour, stirring regularly. The longer you simmer, the thicker your soup will be! You can adjust this for your preference.

Add 1 tablespoon of lemon juice to each pint jar. Spoon soup into sterilized jars leaving an inch of headspace.

Wipe the rims of the jars and place your warmed seals on the jar. Secure lids by finger tightening the screw bands.

Place the hot jars in your canner. There should be enough water to cover the jars with an inch overtop of each jar for hot water bath canning.

Bring canner to a boil. Once it is boiling steadily, start the processing time.

Process pints for 35 minutes. Adjust processing times according to the table included in this post to ensure you are processing properly for your altitude.

Remove jars slowly from your canner and place them on a heat safe surface for 12-24 hours undisturbed. After this time, store all of the jars that have effectively sealed in a cool, dark place.
Notes
This recipe can easily be doubled and tripled. If using quart jars instead of pints, increase your processing time by 5 minutes on top of the pint processing time.
g  as well as the amount of lemon juice or citric acid that you use.
According to MyFitnessPal calorie calculator this tomato soup is 61 calories/cup.
Batch + Storage
This recipe yields around 6 pints of homemade tomato soup, this converts to 3 quarts or 12 cups of finished soup. Depending on how much you cook the soup down, there could be a cup or two extra– a great problem to have!
Store your fresh roasted garlic tomato soup in the fridge for up to a week.
If canned and kept under ideal storage conditions (cool, dark, dry) this soup will maintain its flavor, texture, and color for up to 12 months.
The soup can be frozen in an airtight container or freezer bags for 6 months.
How to Enjoy Your Homemade Canned Tomato Soup
This soup base is SO versatile!
Fresh! Simply cook the soup in a large pot and serve with your favourite fixings such as grilled cheese croutons and fresh basil leaves.
Straight from the jar, it is a hearty soup with great texture!
Paired the finished soup with cream or milk for a rich twist (my favourite) – if you are allergic to dairy products, simply add the non-dairy cream of your choice.
In a bowl with a dollop of sour cream or greek yogurt spooned overtop
Spread the tomato puree over pizza dough as a light sauce
Smothering your favourite pasta
Pin this canned tomato soup recipe!