Canned Spiced Pears Recipe With Chai Tea
Canned spiced pears with chai tea are a flavourful twist on the traditional canned pears of my childhood! Read on to see exactly how to preserve your pears during peak pear season so that you can enjoy them all year long! These spiced pears have the warming & cozy notes of chai and are perfect for the transition from late summer into the crisp, cool weather of fall.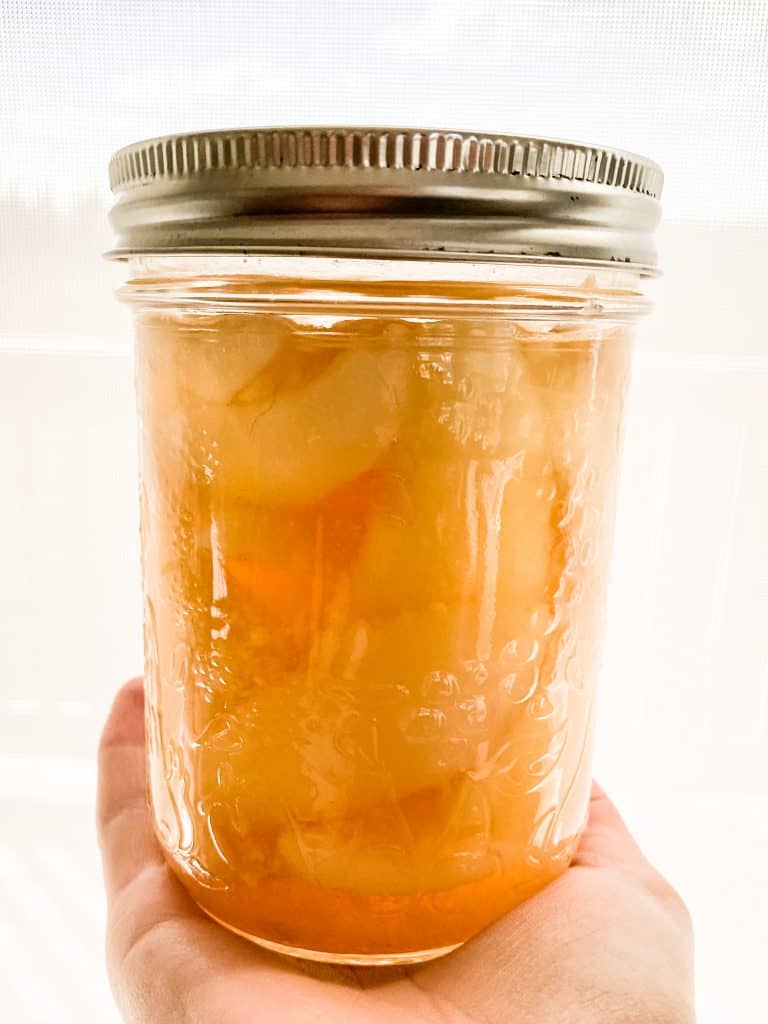 I have fond memories of my Memere delivering her precious canned pears and peaches to my sister and I every year. I didn't truly appreciate all of the time and love that went into these deeds until I ventured into making my own canned fruit. The woman was a saint. Not only did she make dozens of canned goodies for my family, but for all of her 22 grand kids. I will forever appreciate her for that.
Recipe At A Glance
Jar size: Pint / 500 ml

Processing Method: water bath

Headspace: 1 inch

Processing Time: 0-1000 ft = 20 minutes, 1-3000 ft = 25 minutes, 3-6000 ft = 30 minutes

Yield: 8 x pint jars
Tips + Tricks
Start your chai steeping process before you do anything else. I recommend steeping your tea for two hours to allow for a more robust flavour. I use disposable tea bags and loose leaf chai tea but any kind of steeping vessel will work. *If you are using pre packaged tea bags, I recommend using four, tying them together, and hanging them from the handle to the inside of your pot.
Reduce the chance of browning by having a large bowl ready fruit fresh solution so that when you peel and cut your pears, they can be submerged immediately. Alternately, you can use lemon slices in water to keep the pears from turning brown.
Decide how sweet you want your pears to be. Pears are sweet enough on their own and can be canned in water safely with less sugar or no sugar; so it is completely up to you how much sugar you want to add. I like to make a medium-light syrup with 1:2 sugar to water.
Safety first! Use jar tongs when placing jars in the hot water and taking them out to avoid burns, and don't forget to protect your countertops either. I use a large wooden cutting board to protect my counter from the hot, processed jars.
This recipe can easily be multiplied for bigger batches, or halved for a smaller batch.
Can't get enough chai flavours?! Try out this awesome Homemade Chai Concentrate and these delicious Sweet and Salty Chai Spiced Pumpkin Seeds.
Key Ingredients
Pears- You'll need fresh, ripe pears that are still somewhat firm to help them hold their shape and texture during the canning process. I used Bartlett pears but feel free to experiment with a variety of pears including D'anjou or Bosc, or if you have a pear tree, your own homegrown pear crop.
Chai Tea-I prefer to use loose leaf chai as I find it has a more robust flavor, but feel free to use bagged chai tea if that's what you have on hand!
Recommended Tools
Do Pears Need To Be Blanched?
For this recipe, I decided not to blanche. While blanching is an easy way to peel pears, it's also an easy way to make a mess!
Because the fresh pears I've used in this canned spiced pear recipe are somewhat firm, I find them easiest to just quickly peel with a standard vegetable peeler and plop them into a large bowl with 2 tablespoons of lemon juice or citric acid. This prevents them from browning while you finish peeling the rest of your pears.
If you're a blanching fan, bring a pot of water to boil, and drop the pears into the water for 10-15 seconds, then transfer to the fruit fresh solution mentioned in the recipe. To peel after blanching, simply rub off the skin.
Jar Sterilization
It's important to sterilize your jars to prevent cross contamination. Here are a few ways you can sterilize your jars:
Boiling Water Method: Wash jars & lids. Place jars in water bath canner, covered with water and bring to a simmer (180F/82C).
Oven Method: Wash jars & lids: Heat oven to 185F, place jars in the oven (I use a clean cookie sheet to make them easier to handle) and allow them to sit for at least 15 minutes. Leave the jars in until ready to fill.
Dishwasher Method: Place jars, lids, and seals in the dishwasher on the hottest cycle. Take out the hot jars when you are ready to fill them.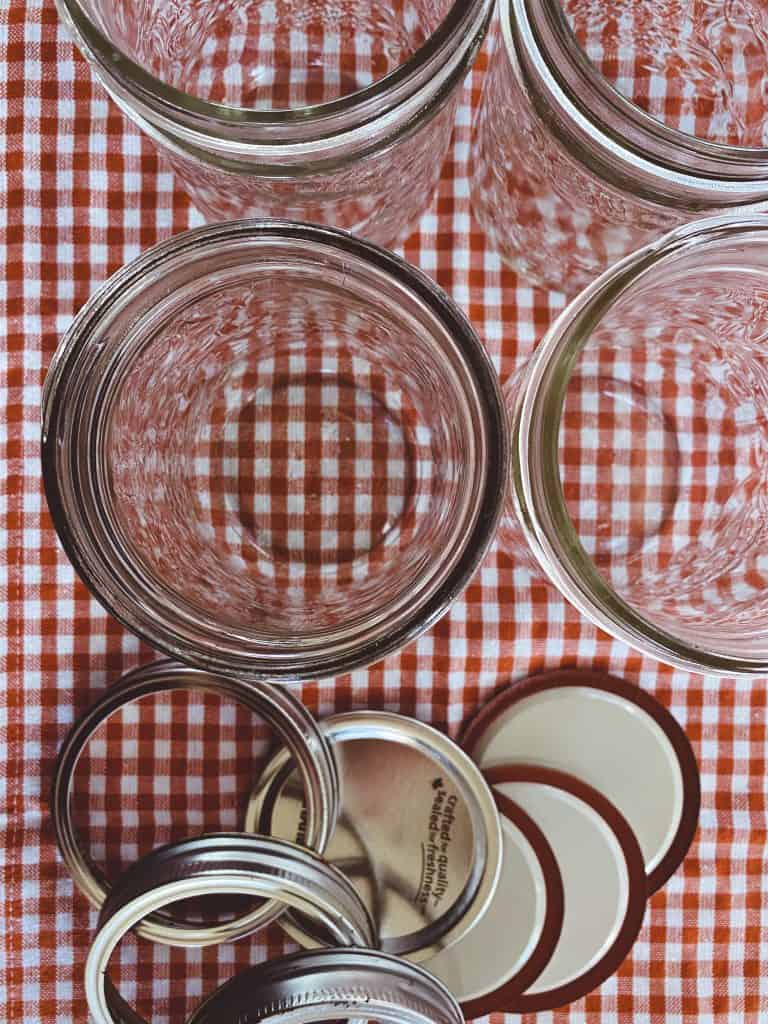 Processing Times
Here in Alberta, we are at 1700 ft elevation, so I need to can my pint-sized jars of pears for 25 minutes, but chances are you're not! This will affect how long you must water bath your pears for safety. Check out the chart below for more information:
Don't forget that the processing time does not begin until the canner is at a full rolling boil.
| Elevation | Processing Time |
| --- | --- |
| 0 – 1000 feet | 20 minutes |
| 1001 – 3000 feet | 25 minutes |
| 3001 – 6000 feet | 30 minutes |
| 6001 – 8000 feet | 35 minutes |
How To Enjoy Your Chai Flavored Canned Spiced Pears
Use the homemade pear preserves in place of blueberries in your favourite blueberry muffin recipe
Coarsely dice and add to a hearty fall salad
Top your oatmeal with these yummy pears
Add to yogurt + granola
Enjoy fresh from the jar (our favourite)
Paired with some vanilla icecream
Drain the syrup and use a potato masher or immersion blender to create pear sauce or jam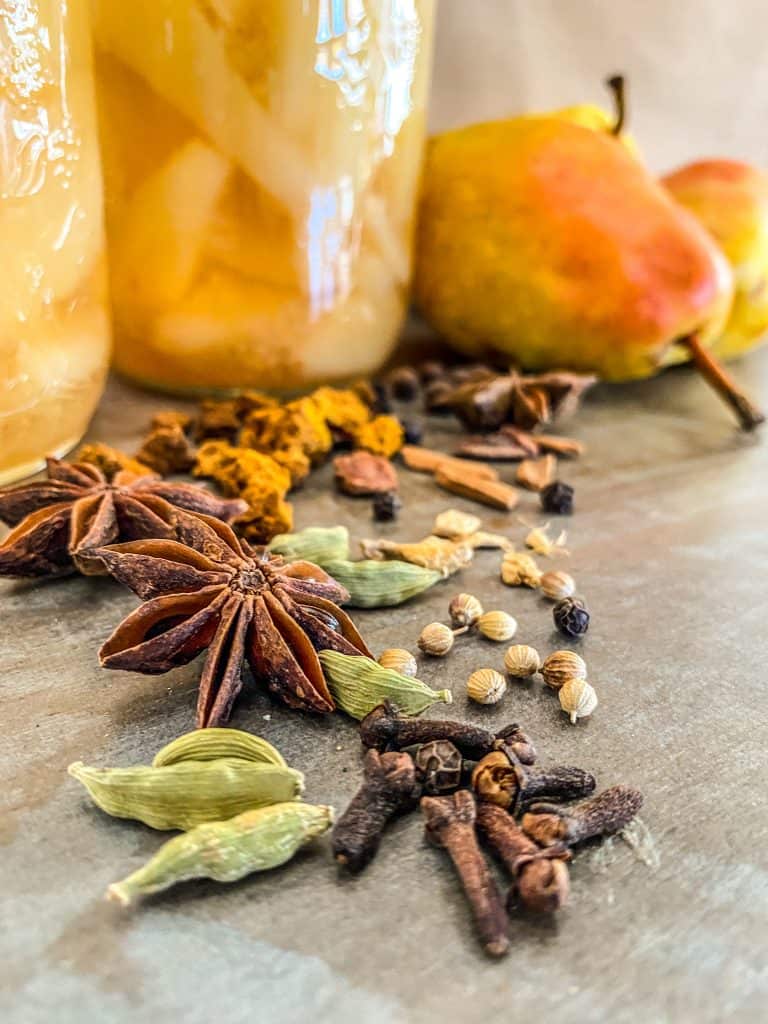 Canned Spiced Pears FAQ
Do pears need to be pressure canned? No, pears can be safely canned in a water bath canner.
Can you can pears that aren't ripe? It is recommended to can pears that are ripe but NOT mushy. Canning pears that aren't ripe can result in an undesirable flavour, texture, and colour.
Can you can pears without sugar? While pears have enough natural sugar content to omit the sugar altogether, I recommend adding some sugar to help preserve the appearance and shelf life of them.
Can I use brown sugar in place of white sugar when canning pears? Yes! The molasses flavour lends well to these delicious pears. Check out my canned peaches recipe that uses brown sugar in the syrup for inspiration.
Chai Spiced Canned Pears
Total Time:
2 hours
25 minutes
Chai spice pears are a flavourful twist on the traditional canned pears of my childhood! These spiced pears have the warming & cozy notes of chai and are perfect for the crisp, cool fall weather. Read on to see exactly how to preserve your pears so that you can enjoy them in the off season!
Ingredients
20 medium ripe pears, *must still be fairly firm
2 tbsp loose leaf chai tea, *can use four regular chai tea bags if loose leaf is not available
12 cup water
6 cups granulated sugar
Fruit Fresh Solution
1/2 cup lemon juice
8 cup water
Instructions
Start your syrup: Place 2 tbsp of loose chai tea in a tea bag or steeping vessel and tie it to the inside of your stock pot so that it is hovering just above the bottom. Add 8 cups water. Let it steep on low for two hours. It is important that steeping be the first thing you do because it will take the longest! While you wait….
Get your jars ready: Place eight freshly washed pint-sized jars in your oven at 175f for at least 15 minutes in order to sterilize them. Place your seals in a small pot and leave them simmer for at least 15 minutes (I leave them until I am ready to use them).
Prep your pears: Mix lemon solution in a large bowl using ¼ cup of lemon juice for every 4 cups of water. Peel and slice pears with a paring knife and put them into the lemon water solution.
Mix your syrup: Once the chai has steeped for long enough, remove tea bags and add 6 cups of white sugar to create your syrup. Mix well until all of the sugar is dissolved.
Fill your jars: Using a funnel, fill clean jars with sliced pears + pear chunks, leaving one inch of headspace. Be sure to pack the fruit fairly tightly without mushing the pairs. Working with one or two jars at a time, ladle hot syrup so that it covers the pears. Don't worry if your pears float to the top of your syrup.
Remove air bubbles: Use a non-metal utensil to slide around the inside walls of the jars in order to remove any air bubbles.
Wipe the rims of the jars with a kitchen towel or a dampen clean paper towel and place seals on top. Finger tighten the screw bands.
Process your pears: Place the jars in your water bath canner with enough water that it is sitting an inch overtop of the jars. Once the water in your canner starts to boil, processing time starts. Process pints over medium heat for 20 minutes and quarts for 25 minutes.
Remove jars carefully: Carefully and slowly remove jars with jar tongs and place them on a heat safe surface. If you remove your jars too quickly, siphoning may occur and your sacred syrup will leak out- potentially jeopardizing the jar's seal.
Get them ready for storage: Once all of the seals have "popped" down, you are ready to label and store them in a cool, dry space!
Notes
If you have any questions regarding the technicalities of canning, please refer to The National Centre for Home Food Preservation and Ball Corporation https://nchfp.uga.edu/ This site offers a wealth of information about safe food preservation techniques.
Refer to the post for processing times at your altitude. A simple search engine check "Elevation for ____" will usually give you your answer.
If you want to process the pears in a half-pint jar, process for 5 minutes less than the pint jars.
Nutrition Information:
Yield:

8
Serving Size:

500 ml
Amount Per Serving:
Calories:

839
Total Fat:

1g
Saturated Fat:

0g
Trans Fat:

0g
Unsaturated Fat:

1g
Cholesterol:

0mg
Sodium:

34mg
Carbohydrates:

219g
Fiber:

14g
Sugar:

193g
Protein:

2g