Homemade Jerky Rub – Hunter's Blend
Hunter's Blend homemade jerky rub has the perfect combination of garlic and pepper with the addition of hickory and a bit of cayenne to turn any meat into the ultimate jerky.
One of our favourite things to smoke on our Traeger pellet grill is jerky using our homemade jerky rub! Store bought rubs can get expensive and often contain undesirable anti caking agents and added preservatives. Since we keep our jerky in the fridge and freezer, added artificial nitrates aren't necessary. We consume a substantial amount of sausages and jerky throughout the year; so it is important to me that we are getting the best quality of food that we can! Use this Hunter's blend on a variety of wild game or on traditional jerky meats like beef and pork.
Key Ingredients for Hunter's Blend Homemade Jerky Rub
Sea Salt: Sea salt is often used as an alternative to curing salt. It naturally contains nitrite making it a good option to help preserve your meat.
Pepper: I love to use fresh cracked pepper for extra flavour and kick!
Garlic Powder
Cayenne: The 1/2 teaspoon of cayenne makes this rub mildly spicy which makes it super family friendly. If you want a more spicy jerky simply up the cayenne and/or chipotle.
Chipotle: Don't miss this ingredient! The complex jalapeno flavouring gives our homemade jerky rub the perfect amount of "kick."
Chili Powder
Brown Sugar: Brown sugar adds a dynamic molasses flavour to this rub and as a bonus, it helps to preserve the jerky.
Hickory Liquid Smoke: This liquid hickory flavouring can be easily found in most grocery stores. I use Wright's Brand. It adds a bacon flavour to the jerky. Who doesn't like bacon!?
Soy Sauce
Water: Water is optional when making your rub. We have tried it with multiple meats and found lean meats need the extra moisture whereas juicer meat like pork tends to hold more water and didn't need the extra 1/4 cup.
Tips and Tricks
Prep extra dry ingredients for future batches while you have the mess out!
Be sure to mix wet and dry ingredients separately before combining to make sure there are no chunks.
Don't skimp on marinating time.
Mix it up! If you don't like a flavour, swap it out or omit it.
Use your Traeger, Pit Boss, or other pellet grill to add delicious smokey flavour to complement your Hunter's Blend jerky rub.
FAQ
How long should this "dry rub" sit on the meat before it is made into jerky?
Leave the rub on overnight or for 12 hours in the refrigerator for best results.
Do I need to use a smoker to cook my Hunter's Blend jerky?
No! There are several different methods to cook jerky including on a pellet grill, in the oven, and in the dehydrator.
Does this homemade rub work for sliced jerky as well?
Yes! This rub works as a marinade for ground and sliced jerky- be sure to marinate for twelve hours and refrigerate after making it.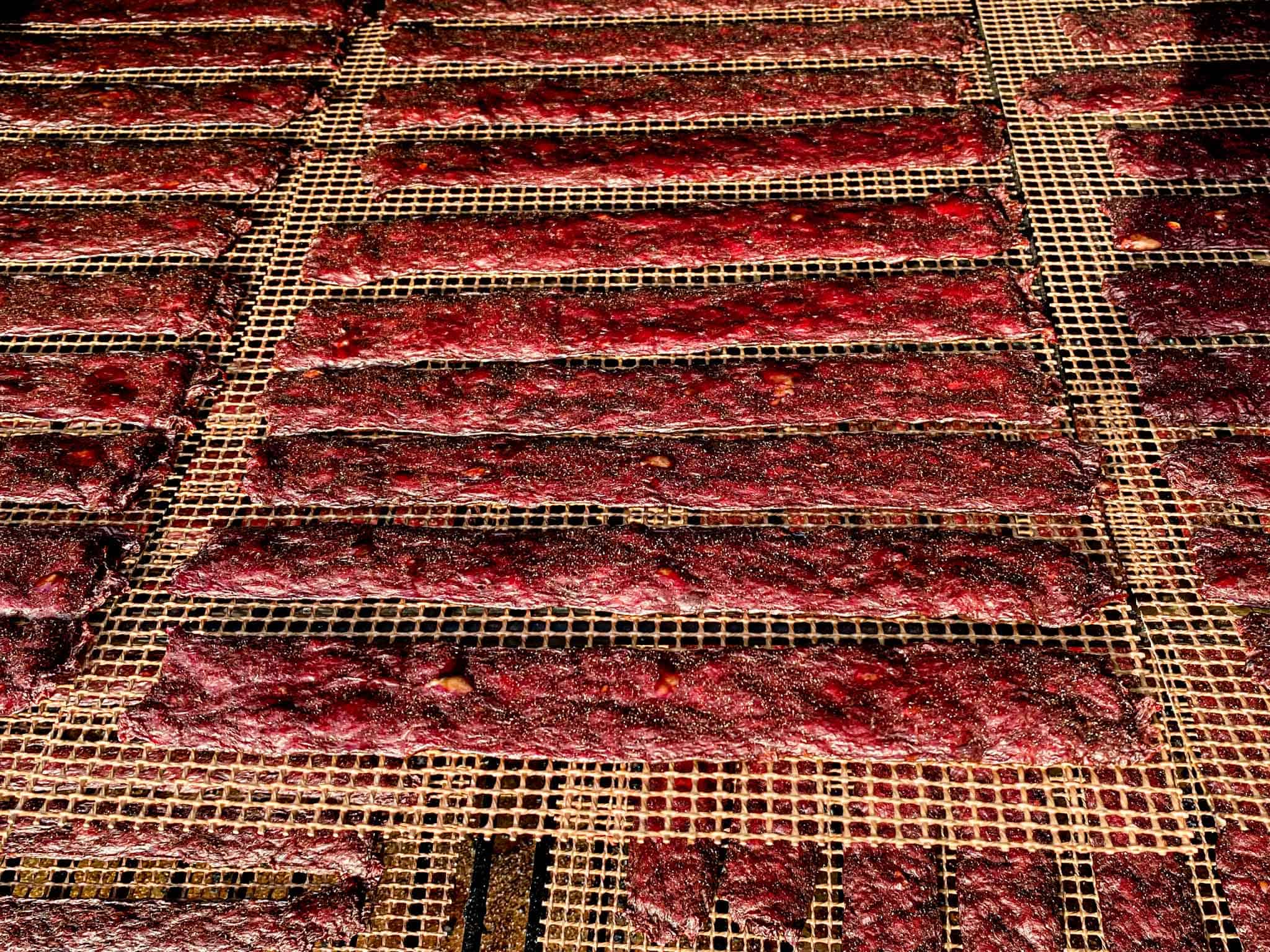 Homemade Jerky Rub - Hunter's Blend
Hunter's Blend homemade jerky rub has the perfect combination of garlic and pepper with the addition of hickory and a bit of cayenne to turn any meat into the ultimate jerky.
Ingredients
4 teaspoons sea salt
1 1/2 teaspoons fresh ground black pepper
1 1/2 teaspoons garlic powder
1/2 teaspoon ground cayenne pepper
1 teaspoon ground chipotle pepper
1 tablespoon ground chili powder
2 tablespoons brown sugar
4 teaspoons hickory liquid smoke
2 tablespoons soy sauce
2 tablespoons worcestershire sauce
1/4 cup water -- optional for very lean meat such as goose and venison
Instructions
Measure and combine wet ingredients in a medium sized bowl.
Add in dry ingredients and mix well.
Place the prepared meat (ground or sliced) in the rub.
If you are using ground meat, mix thoroughly to make sure that the rub has completely penetrated all of the meat- any liquid should be soaked up at this point. If you are using sliced meat, mix and toss until the meat is fully coated.
Place in an airtight container or cover with plastic wrap and stow in the fridge overnight or for around 12 hours.
Make jerky as you normally would (dehydrator, oven, pellet grill).
Notes
This is enough seasoning for 2lb of raw meat. The jerky should be kept in an airtight container the fridge for short term storage (1 week) or in the freezer for longterm storage (12 months).
Recommended Products
As an Amazon Associate and member of other affiliate programs, I earn from qualifying purchases.
Nutrition Information:
Yield:

8
Serving Size:

1 oz
Amount Per Serving:
Calories:

9
Batch + Storage
This homemade Hunter's Blend jerky rub is enough for two pounds of raw meat which equates to around 1/2 pound of jerky.
Store your Hunter's Blend jerky in the fridge for up to one week and in the freezer for up to twelve months. Always store in an airtight container.
Pin It!
More Recipes You Will Love…